Get an Inside View of the Anatomy & Biomechanics of Movement
Choose the Best App for you!
Try our apps on all devices | Sign up for free
Strength Training – Yoga – Posture – Anatomy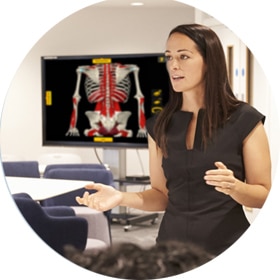 Offer for Universities/Colleges
Teaching Anatomy and Kinesiology the new way!
Let your students learn with our unique 3D videos.
How will "Muscle and Motion" help you?
+ You will understand the way muscles move and interact during training
+ Acquire science-based knowledge and stand out from your competition
+ Learn to train in a safe way and minimize the risk of injury
+ Explain to clients exactly how to perform exercises and how not to
+ Know exactly which muscles are used in specific positions or exercises
+ Gain the tools to clearly explain complex concepts to students and trainees
+ Understand the biomechanics of the human body and prevent sport injuries
+ Acquire all the knowledge you need as a trainer/movement professional
---
Over 250 Universities Teach With our apps